Have we perhaps overlooked something?
Of the more than 43,000 listed companies worldwide, thus far we have only found 3 that don't harm biodiversity. 0.01%! At least, to date. That can't be right. Are we missing something?
Biodiversity on our planet is decreasing at a high rate, even though healthy ecosystems supply the essential needs of both people and companies. This is why ASN Impact Investors, in the form of the ASN Biodiversity Fund, is investing in projects and companies and funds that don't harm biodiversity or, better yet, make a net positive contribution to biodiversity through their activities. As a result, ASN Impact Investors has established a diverse portfolio, but listed companies are still underrepresented here.
Help us find more!
So we call on everybody to find more listed companies, wherever in the world, that do not harm biodiversity. We will then judge them by our sustainability standard.
Is there a listed company that you think is able to meet our biodiversity standards?
We can't wait to hear it! Send us your tip via the link below.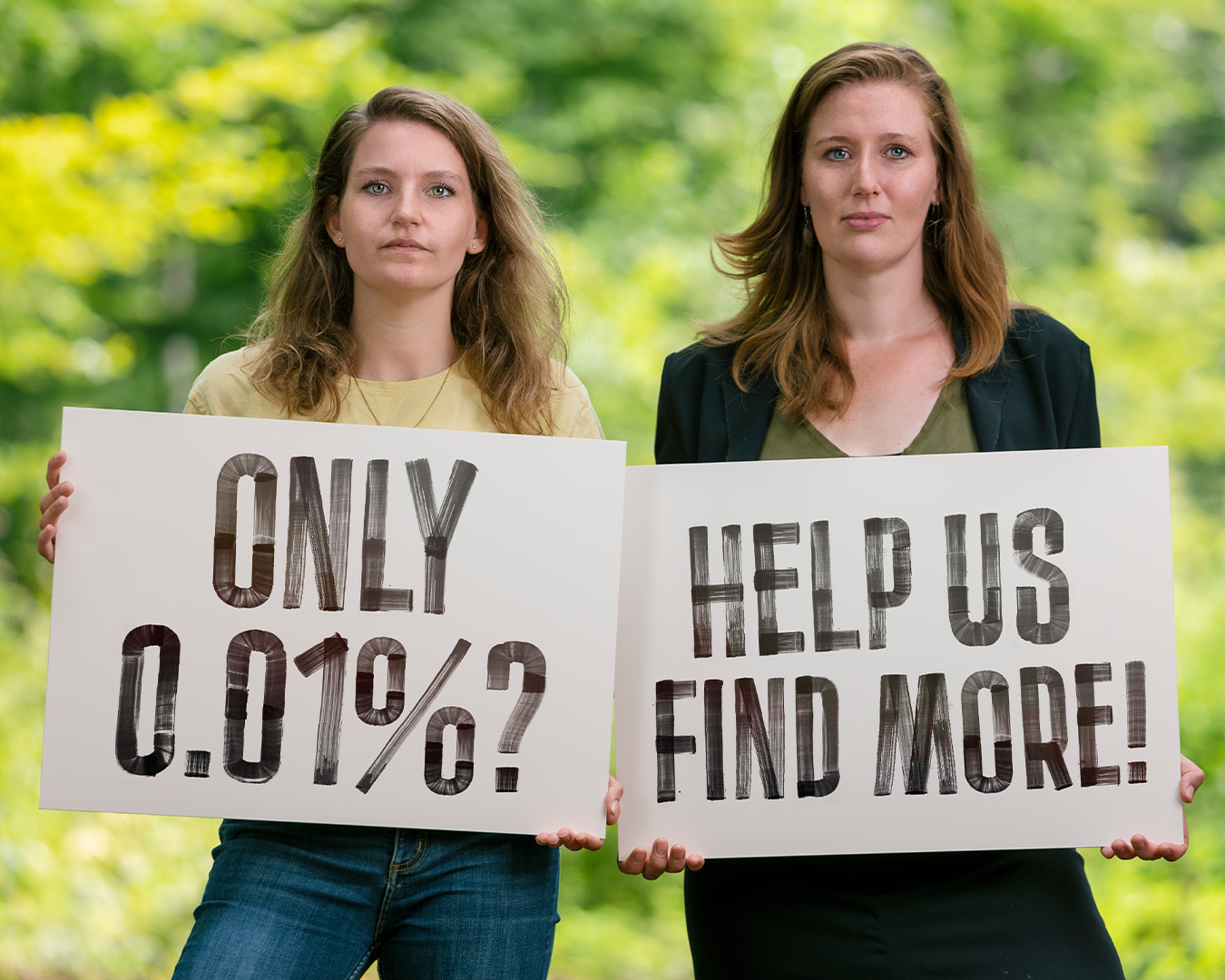 Anouk Vegter & Karin van Dijk
Analyst & Fund Manager ASN Biodiversity Fund
Need help to help us?
Use the quick scan below. It contains the first things we look at and check before we start the deeper analysis.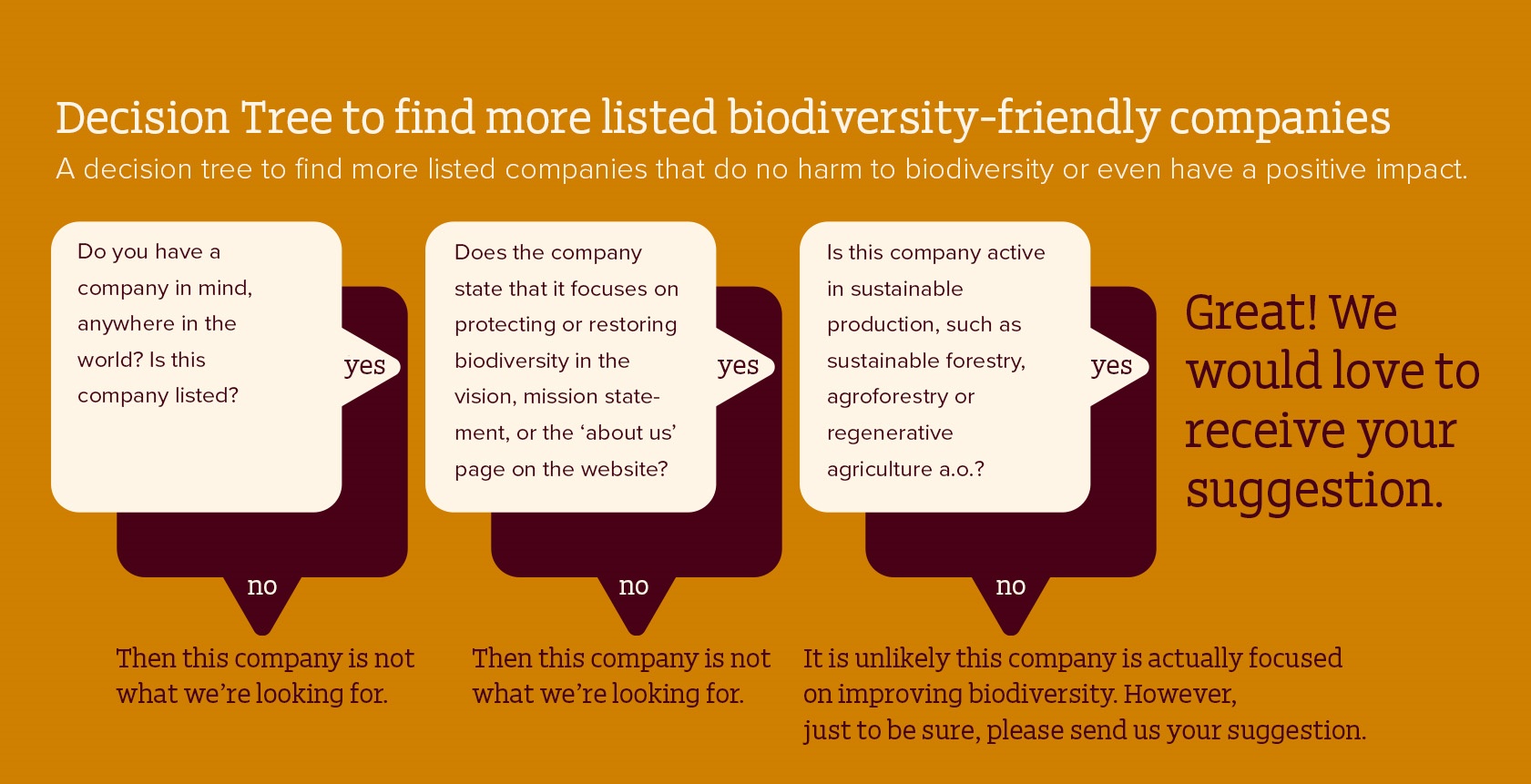 What will happen to your tip?
As soon as we receive your tip, we'll first check to see whether we have examined the company before. If we haven't yet examined the proposed company, and it does look promising, we will assess it by our sustainability standard to see if it meets our requirements. This is how we join forces to raise that meagre 0.01%.
If we have already examined the listed company, we will let you know why it didn't meet our sustainability standard.
Time for more biodiversity
Our ASN Biodiversity Fund is the only one of its kind in the Netherlands. And you'd be hard put to find a similar fund anywhere else in the world – unfortunately. After all, if we want to protect and restore the Earth's biodiversity, we need more asset managers to make a positive impact. And we need our own fund to grow too. Your contribution is vital in these efforts, so your suggestions are more than welcome.
Important information
ASN Impact Investors is trading name of ASN Beleggingsinstellingen Beheer B.V., the manager of ASN Biodiversiteitsfonds N.V. The manager has obtained a licence as referred to in Section 2:69b of the Dutch Financial Supervision Act (Wft). ASN Beleggingsinstellingen Beheer B.V. and ASN Biodiversiteitsfonds N.V. are entered in the register of the Dutch Authority for the Financial Markets. A Key Investor Information Document (KIID) and a prospectus are available for the Fund, with more information on the Fund, the charges and the risks. Please read the prospectus and the KIID before making a decision to invest in this Fund. This publication may not be considered as an offer to invest or as investment advice. The value of your investment may fluctuate. Results obtained in the past are no guarantee for the future. The information in this publication is derived from sources considered by us to be reliable. No rights may be derived from this publication. The manager shall not be liable for losses of any nature, including those resulting from the use of incorrect or incomplete information.